St Mary's Church
St Mary's Church Little Bromley is cared for by the Churches Conservation Trust. Over the last few years, the Trust has carried out major repairs and the church is used occasionally for services by the parish of the Bromleys.
In 2006 the Friends of Little Bromley Church was started with the aim of encouraging the use of the church as a community resource.
This little church was built in the eleventh century and was further beautified in the fourteenth and fifteenth centuries when the splendid tower was built. Of particular interest is the stained glass from the 1930s, which includes pictures of Sir Christopher Wren, Archbishop Laud and King Charles the Martyr, an anonymous gift to remember those from the parish who fell in the Great War. Sir Christopher Wren stands holding the plan of St Paul's Cathedral, and above him are the arms of Wadham College, Oxford. At the time, Little Bromley was a Wadham College living and Wren was an alumnus of the College, hence the connection.
Appropriately for this "church in the fields", part of the churchyard is kept as a conservation area.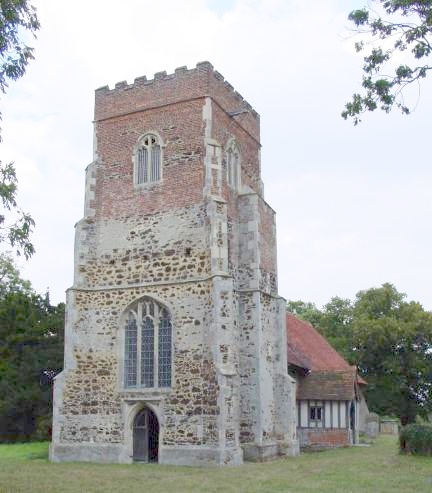 How to get there

Little Bromley is six miles NE of Colchester.
From the A120 Colchester-Harwich road, Lt Bromley is signposted. After a mile, before the village, turn left at the war memorial, then right at the next T-junction.
From Manningtree / Ipswich, Lt Bromley is signposted at Lawford on the A137. Pass through Lt Bromley village and turn right at the war memorial.
Facilities

Disabled access to the church. Car parking and WC.
For those interested in burial at Great Bromley, see the Church Burial Guide page.
For pictures of the church, mainly taken by Graeme Bruce, please go to our photo gallery.