James Frostick
James Frostick was Lance Corporal in the Essex Regiment, 2nd Bn. service number 16940, who was 38 when he was killed in action, France & Flanders on 5th April 1918.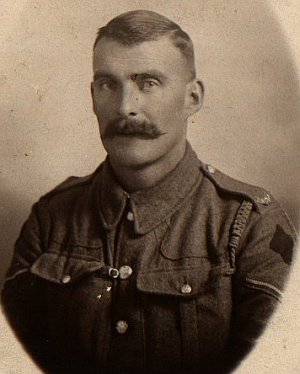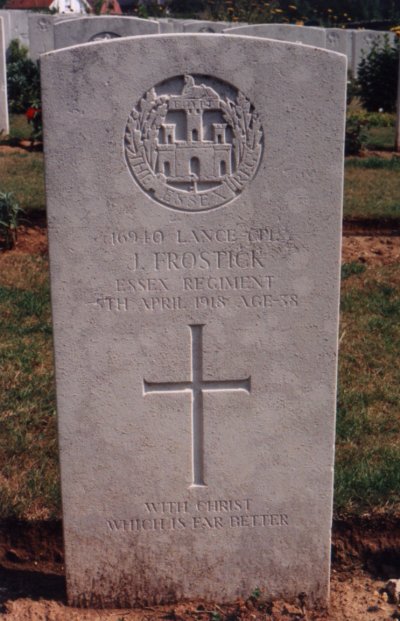 James Frostick was born in Little Bromley in early 1880, the youngest son of William and Elizabeth. William Frostick was an Agricultural Labourer born and bred in the village and nearly 50 when James was born. After the death of his first wife, William married Elizabeth Tweed from Bradfield in 1867 and together they had at least six children.
After leaving school, James was employed as an Agricultural Labourer, and for a time remained living with his parents on Paynes Lane. In 1902 he married Bertha Cook who had lived with her family on the same lane as the Frosticks. James and Bertha also made their home on Paynes Lane, and their first child, Bessie, was born a year after their marriage, followed by Joan in 1905, Mary in 1908 and Tom in 1909.
James volunteered to join the Essex Regiment in early January 1915. He was sent to France on 1st June 1915, and joined their 2nd Battalion. During James' service overseas, in addition to the "usual" trench duty the 2nd Essex were involved in the Battle of the Somme in 1916, the Battle of Arras and the Third Battle of Ypres (both in 1917).
On 28th March 1918 the focus of the German offensive, which had started seven days previously, was switched to the British Third Army near Arras. These attacks were defeated so widely that the Germans cancelled this part of the offensive after only one day, and transferred their efforts back to the British Fifth Army near Amiens. The 2nd Essex were one of those units at the very front of the British line, and in the course of resisting the German attack they suffered over 400 casualties. Most of the survivors were used to form a Composite Company which was then attached to another battalion in their Brigade, the 2nd Lancashire Fusiliers.
On 5th April, the 2nd Lancashire Fusiliers and the Composite Company were manning the front line just north of the village of Fampoux. James and two other men were killed. James was buried in a small military cemetery in the village of St Nicolas, on the northern outskirts of Arras. That village is now a suburb of Arras, but St Nicolas British Cemetery is still situated on the edge of meadows overlooking the River Scarpe.
Son Tom grew up to be a horseman at Park Farm, Great Bromley, and his son Derek still lives in the village.