Arthur Howe
Arthur Howe was born in the spring of 1891, in Little Bromley, where his parents lived on Ardleigh Road. Arthur's father, Joshua, was an agricultural labourer, and had married Annie from Colchester in 1876. Joshua and Annie already had three other children Abraham (aged 14, who was working as an agricultural labourer), Nellie (aged 12) and Charles (aged 3).
The April 1911 Census shows Arthur was a farm labourer. However, at some point after that he was able to gain employment at the British Xylonite factory in Brantham. Xylonite was a trade name for celluloid, and the Brantham site was the first purpose built plastics factory in the U.K. Arthur worked in the Acid Shop, arguably the most dangerous part of the hazardous manufacturing process, where explosions and fatalities were not uncommon.
At some point prior to August 1914, Arthur had joined the Territorial Army, as a Private. It is quite possible that Arthur was already with his Battalion – the 1/5th Essex – upon the outbreak of war, as they had started their fortnight of annual training on 27 July.
Once war was declared, the 1/5th Essex immediately moved to it's designated war station, the port of Harwich, remaining there until 20 August when they moved to North Norfolk. They remained there until the spring of 1915, when they moved South - initially to West Bergholt, and then to St. Albans in Hertfordshire.
The 1/ 5th Essex left Hertfordshire on 21 July, bound for Plymouth. Two days later, the 31 officers and 655 Other Ranks of the Battalion, sailed for Gallipoli. Their ship, the S.S. Grampian, called in at Malta and Alexandria, before arriving at Mudros Harbour on the island of Lemnos, on 2 August. Lemnos, in the northern Aegean Sea, had become the main Allied advanced base for the Gallipoli campaign.
Since the initial Allied landings on the Gallipoli peninsular in April, little progress had been made, and the campaign had deteriorated into a costly stalemate. In an attempt to regain the initiative, the British planned another landing – using fresh forces – at Suvla Bay, which lay behind the Turkish lines, at Suvla Bay.
The British landings at Suvla started on 6 August, and met little opposition. Unfortunately, the British commander failed to push his advantage, and by the time the 1/ 5th Essex landed on 10 August 1915, the Turks had moved in sufficient forces to effectively block further advances. After the August fighting, the forces at Suvla were also reduced to the same static, trench warfare as their comrades elsewhere on the peninsular.
Arthur's Battalion was in action within a few days of their landing. It is a sad fact of the Gallipoli campaign, that more British casualties were caused by sickness, than by enemy action. Many became ill due to the insanitary conditions, with typhoid, dysentery and diarrhoea. Between September and November the Brigade of which the 1/ 5 Essex was a part, suffered 146 casualties due to enemy action. During the same period, 1,704 men were transferred to hospital due to sickness and disease.
The Gallipoli campaign was seen by many as a costly failure, and in November 1915, the Cabinet took the decision to evacuate the Allied forces there. Ironically, the evacuation itself was a success, and not one man was lost during the actual evacuation, which was completed in January 1916.
Arthur's Battalion – which by this time had been reduced to just 13 officers and 141 Other Ranks - left the peninsular on 3 December and were shipped to Mudros. Whether Arthur was still with them we do not know, as he would already have been very sick, and may have been transferred to hospital on Lemnos.
We do not know the exact date, but at some point between 31 December 1915 and 2 January 1916, Arthur was transferred to H.M.H.S. (His Majesty's Hospital Ship) Britannic. The Britannic was a passenger liner (and sister ship of the ill-fated Titanic), which had been requisitioned by the Admiralty. She had arrived at Mudros harbour on New Year's Eve 1915, to take on board approximately 3,300 casualties in order to transfer them to hospitals in the UK.
On 2 January 1916, Arthur Howe died of tubercular disease on board H.M.H.S. Britannic, whilst she was still in Mudros harbour. He was 24 years old.
Arthur's body was landed on Lemnos, and he lies in Plot III, Row F, Grave 166 of the East Mudros Military Cemetery.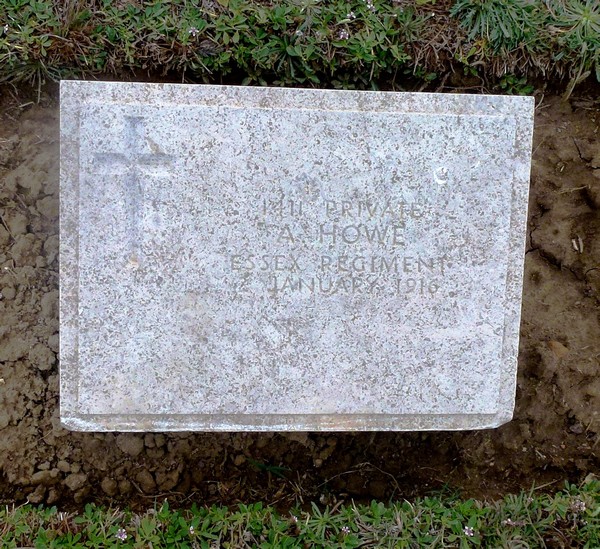 Picture courtesy of Bushfighter via Bob Pike